What is ConneXion?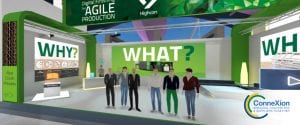 A virtual environment for suppliers of equipment and services around the world to connect with packaging producers. It is a platform where people can learn, interact and share information. Think of LinkedIn, but specifically for the packaging industry!
Highcon is proud to be among the partners collaborating in this great opportunity, especially these days, when meeting people face-to-face is a big challenge to us all.
You are invited to meet us in Booth #11, Hall 2, engage in live-chat, attend a series of webinars, round tables, presentations and broadcasts during the 4 weeks in which the virtual exhibition is live. You can even live-chat with other visitors, watch selected videos and have a full view on our products.