Letter from the co-founder
When Miki and I founded Highcon, it was clear to us that a successful company was about more than financial results. We aimed to represent all our convictions in terms of a responsible company based on honest relationships: Relationships with our employees, customers, partners, and the world.
Company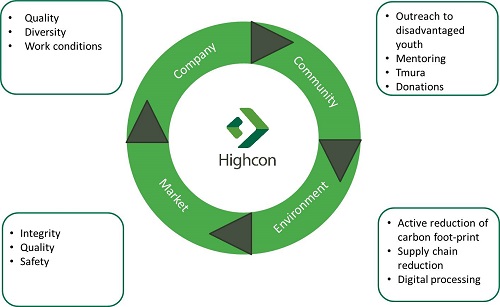 At Highcon we are committed to being a positive force for our community, employees and customers. Customer satisfaction is our key target and we understand that this can only be achieved through active participation by each of the Company's employees. From each employee, the Company expects an uncompromising personal commitment to the highest standards of quality, integrity and the acceptance of personal responsibility for all work. In return for this uncompromising commitment we aim to supply a positive, responsive and encouraging work environment that will foster maximum contribution from each employee.
Community
Highcon and its employees are all active in the community. The company recently initiated a link to a local high school with young people in their penultimate year at school. This is a group of young people headed toward their matriculation but with no exposure to science or technology studies. Highcon employees are volunteering to introduce them to a wider potential.

Highcon is proud to announce that it has made an equity donation to Tmura – The Israeli Public Service Venture Fund. The donation was in the form of options, convertible (at exit) into a portion of our company's equity, and proceeds from the future sale of these shares will be invested in education and youth-related activities
in Israel. This donation will enable us to "Share a Little Upside with Society" and serves as an additional incentive for us to succeed. Social responsibility is an important component of our business and we are delighted to partner with Tmura in this unique and worthwhile initiative.

The walls of our offices are also decorated with inspiring pieces of art produced by autistic children and purchased as a donation to Alut, the Israeli Society for Autistic Children.

Mentorforlife – Both Miki and I are also actively involved in mentoring young men who have just completed their military service. Through an organization called "mentor for life" we help soldiers who are in Israel without their family. Once they are released from the army we assist them with general life skills, preparation for employment, networking and other life skills.

Founded in 1958, Hameshakem is an Israeli association dedicated to assisting people with disabilities to participate in the working community in Israel.  Many of our samples and brochures that we prepare for events  are assembled by Hameshakem members.
SHEQ (Safety, Health, Environment and Quality)
Highcon recognizes its responsibilities to take the lead in developing and implementing progressive safety, hygiene and environmental protection policies. We consider this as part of our obligations to society and the state, and as a key aspect of our corporate obligations. Our aim is to supply safe products and services that reduce carbon footprint for the duration of their lifecycle, and to conduct all our activities in a way that protects the environment. In addition, we aim to establish and develop working surroundings and operating procedures that allow company employees to work safely.
To achieve these objectives we will:
Go beyond the letter of the law to meet all the relevant safety requirements and regulations, hygiene and environmental quality standards.
Make every effort to proactively reduce the risks of work-related injuries and illnesses and promote the health and welfare of the employees.
Invest major efforts in avoiding pollution, saving energy and reducing the amount of waste materials generated from our activities.
Work to design and produce products that will be safe to use and at the same time consume minimum amounts of energy and natural resources.
Customers
Customer satisfaction is the key concept which drives all the activities of Highcon. We believe that the quality of our products and services will be the decisive factor in attaining customer satisfaction. Furthermore, we believe our customers are concerned about the environment and demand the same from their vendors and partners. In keeping with our striving for excellence, Highcon places emphasis on quality at every stage of product development, including designing for quality, and ongoing assessment and improvement of current processes. In addition, we continue to bolster the environmental rules and policies which govern all of the Company's operations and activities.