Finishing paper and cardboard products with digital cutting and creasing allows printers, converters and trade finishers to take their products to new heights. The digital technology not only speeds up workflow and shortens time to market but also removes many of the limitations inherent in the conventional die-cutting process. This means that graphic and packaging designers can now embrace the additional flexibility of the solution to produce greatly differentiated products even in short runs. Which in turn means that brand owners can achieve the innovation that they really need in order to stand out on the shelf, or in their marketing campaigns.
Highcon customers have been using highly intricate cutouts for luxury products, etching for either brand protection or just for decoration and have leverage the technology to the extreme, producing popups, point-of-sale and display items that truly take paper into a new dimension.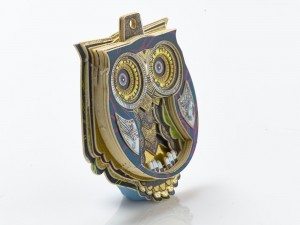 The Variable Data Cutting optional module, available for Highcon Euclid III and Highcon Beam machines means you can not only cut intricate cutouts within a product, but also produce different layers – as in this owl.
For a marketing or advertising agency launching a new product, creative packaging, brand consistency and structural design can be brought to an entire range of launch products: brochures, folders, invitations, presentation kits, etc. etc.
For more information about Highcon's 3D Modeling package, click here