Highcon Customer Business Development Package
Digital finishing presents print service providers, converters and trade finishers with new opportunities and different business challenges. No longer do our customers compete on price but instead on value.
Highcon works alongside brand owners, marketing agencies and designers in order to break down the barriers to production by reducing time to market, innovation and supply chain limitations imposed by the current manufacturing processes.
New customers can purchase a support package to enable easy ramp-up, selling new products to existing clients, as well as market development targeting new clients.
The popup card in the image on the left is an example of the collaboration between Highcon and paper artist, Peter Dahmen, with his special designs made available to Highcon customers as one of the elements of this service.
The Highcon Synergy customer business development package contains the following: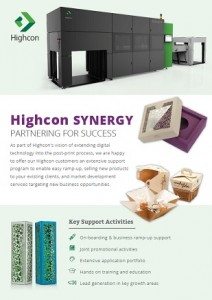 Business ramp up
Promotional activities
Applications portfolio
Training and education
Lead generation
To read more and download the brochure – click on the image on the right.